Seeking an Ideal Nation

Full Name

Rolento F. Schugerg

Birthdate

November 15

Nationality

American

Gender

Male

Race

Human

Relationships

Guy (rival)
Sodom (ally)

Ibuki (Tag partner)

Fighting Style

Special Forces Training

Occupation

Revolutionary

Debut

Final Fight

Vitality

1,000

Tag Partner

Ibuki
"To challenge me is to challenge my army."
—Rolento
Rolento F. Schugerg, more commonly referred by his first name, is a video game character from both the Final Fight and Street Fighter series. Like Sodom before him, he first appeared as a boss character in the first Final Fight, but later evolved into a playable fighter in Street Fighter Alpha 2.
Biography
Edit
A former high-ranking officer in the Mad Gear gang, Rolento was an expert in hand-to-hand combat, explosives, small arms and of course, bojutsu. Now he focuses on creating an "ideal nation" where everyone is a soldier day in and out. After learning about a mysterious box from a subordinate, Rolento seeks to secure and destroy the box to show the world that his army is a force to be reckoned with.
Appearance
Edit
Rolento wears a very militant outfit with weapon belts (where he keeps his grenades) going over his shoulders and a red beret on his head. He has a red scarf under his worn yellow outfit and fights with a green staff. This is a change from how he originally appeared in Final Fight, in which he wore an olive green uniform, and wielded a brown staff.
Personality
Edit
Background
Edit
Rolento is a former member of the special forces unit, the Red Berets. Rolento left and joined the Mad Gear gang, where he was put in charge of the gang's secret armory-producing plants in Metro City's industrial area.
Final FightEdit
During his time with the Mad Gear gang, Haggar, Cody and Guy confronted Rolento in the plant while looking for Haggar's daughter, Jessica. He was defeated by Guy when a shuriken thrown by Guy scarred his face, and Rolento escaped.
Street Fighter Alpha 2Edit
No longer content with being a lackey for Mad Gear gang, Rolento sought to create his own utopian nation. Sodom (another former Mad Gear gangster) tried to convince him to rejoin Mad Gear, but Rolento refused, saying he has no need for them anymore. Sodom brands him an "arrogant moron" and instead challenges him to a fight, which Rolento wins. Rolento then has an encounter with Guy, and realizes Guy still remembers him as his "leader". They trade insults and fight once again, but is defeated by Guy. He makes his move and attempts to start his new nation in Metro City, driving a tank through the business district, but Mayor Mike Haggar is called to stop him.
Street Fighter Alpha 3Edit
Remembering Cody as a powerful fighter from the past, Rolento searched for him to try to recruit him into his army. When he found Cody in prison, Rolento became disheartened about his defeat at the hands of Guy when he was a member of the Mad Gear Gang. He encounters Sodom once again, who claims the military man had lost sight of what Mad Gear stood for. Rolento finds Bison's Psycho Drive while stealing weapons from Shadaloo for his army, and learns the Psycho Drive brainwashes people. He decides not to use it, saying he can't have a utopia if people can't make their own decisions. Sodom had tracked Rolento down, despite their earlier arguments, and hears him proclaim this; realizing that Rolento did not lose sight of Mad Gear's ideals after all. They decide to work together to use those values to make a great Utopian nation.
Ultra Street Fighter IVEdit
Rolento's army takes part in at least one conflict; after a battle, Rolento makes a speech to his soldiers about how their mission is to save the world. He receives a report about a private military contractor, S.I.N., which will be testing a new soldier enhancement system (BLECE) at an upcoming tournament. In response, Rolento enters the tournament in order to obtain the enhancement system for himself and his army.
In his ending, Rolento confronts and defeats Seth, feigning an offer to make a deal with him, before using the opportunity to finish him off by blowing him up with his Grenades. Afterwards, he tells his men that the ruined base now belongs to them, and that they are to scour the ruins for anything they can find. As the soldiers begin to search the base, Seth's heavily-damaged Tanden Engine is shown powering down.
"Fall in! Attention! Present arms!"
—Rolento
Techniques
Edit
| Move Name | Input |
| --- | --- |
| Trick Rod | + |
| Spike Rod | + |
| Trick Landing | just before landing |
| Colonel Carrier | or N + + |
| Deadly Package | + + |
| Patriot Circle | + perform x3 |
| Stinger | + |
| > Stinger Follow-up | during Stinger |
| Mekong Delta Attack | |
| > Mekong Delta Attack Roll | during Mekong Delta Attack |
| Mekong Delta Air Raid | + |
| > Mekong Delta Air Raid Follow-up | during Mekong Delta Air Raid |
| Mekong Delta Escape | + |
| Patriot Sweeper | + |
| Cross Art | + + |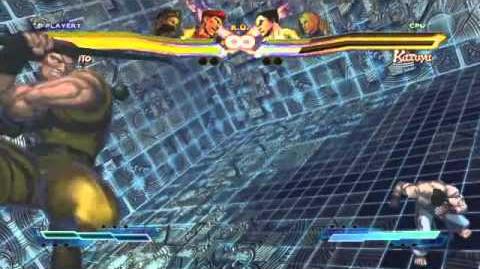 Ibuki and Rolento being partners may have something to do with Ibuki's incarnation in Pocket Fighter/Super Gem Fighter. In said game, the fighters dressed differently for each special attack, often dressed as other Capcom characters; Ibuki dressed as Rolento for her aerial Kunai attack and aerial Super, the same way Rolento is known for throwing grenades in mid-air since Final Fight.
Rolento's taunt, "Children, knowing is half the battle", could be a reference to GI Joe.
Ad blocker interference detected!
Wikia is a free-to-use site that makes money from advertising. We have a modified experience for viewers using ad blockers

Wikia is not accessible if you've made further modifications. Remove the custom ad blocker rule(s) and the page will load as expected.